Introduction As a result of global economics and changes in food production, today's consumers have a rather poor knowledge of food origins. This lack of...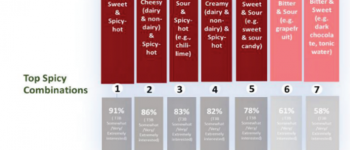 Introduction: R&D and marketing groups are eager to understand where the next opportunity for spicy-hot infusion may be and what the consumer tolerance is for...
Introduction: In 2001, Canada became one of only two countries to legalise cannabis for medical use. In 2018, again in the company of only one...
Abstract To satisfy budgetary requirements there is often a need to test multiple flavored products at the same time, thereby inducing contrast effects to the...
Introduction: The original ESN study of 14 countries across 6 different continents was to investigate the association of well-being with feeling good, food & beverages,...
Introduction: Building on earlier methods (TQT, CATA, TDS), the TCATA method was introduced to continuously track sensory attributes responsible for the dynamic nature of foods....